If your cat has long fur, it can be the prettiest ever or a matted nightmare. Keeping your long-haired cat groomed and clean is really important. Once a fur coat is clean, a nice softening agent can be added to give it an extra soft touch. This post is all about cat fur conditioner that will leave your long-haired cat's coat silky smooth.
Prior to applying conditioner, you will want to brush your cat and next, shampoo your cat. If your long-haired feline has any mats in her lovely thick coat, is is super important to remove them.
RELATED: Meet the Bengal Maine Coon Cat Mix: Size, Traits, and More
Getting Mats Out Of Long-Haired Cats
Don't worry if your cat's fur ends up in a tangled mess – help is here!
Before you start shampooing your beloved pet, however, you should try and get the mats out with scissors.
Taking your time, lightly powdering them (no water!), pulling the matting away from the skin, and using sharp scissors to carefully snip the mat out without touching the skin, will ensure the process is painless and quick. Once finished, give your cat a brush to remove any remaining powder.
Now that you have brushed her well and removed any mats, it is time for the shampooing process. For information on shampooing long-haired cats, check out our blog post, 5 Best Shampoo Products For Long-Haired Cats.
Applying Conditioner To A Cat's Coat
After a bath, your cat should be given a conditioning product to help restore moisture to the skin and reduce the chances of dandruff. Make sure to rinse off all traces of shampoo or other products, as your cat will groom themselves vigorously and you don't want them to ingest any shampoo or other products. This is especially important when using a medicated or flea shampoo, as that can be toxic for your cat.
Now that you have rinsed the shampoo out of your cat's fur, you can apply a cat fur conditioner. There are several types for long-haired cats including conditioners built right into the shampoo, sprays and creams.
Best Cat Fur Conditioner For Long-Haired Cats
There are lots of conditioners out for long-haired cats, here are the top ones we like and why!
1) Breezytail PetO'Cera Mist – Ceramide Spray Mist for Dogs & Cats
Our number one conditioner pick for long-haired cats is Breezytail PetO'Cera Mist – Ceramide Mist for Dogs & Cats.
You can read through some of their questions and answers on your own, but I liked how through and responsive they are. The answers are also in line with what makes a 'best' pick.
" QUESTION:
If consumed by a cat, will they foam or drool from bitterness?
Answer:
Hello, this is Sue from Breezytail.
PetO'Cera Mist is made of extra mild ingredients that 2 months old cats even can safely use. But depending on your cat's sensitivity to ingredients and allergies, even extra mild ingredients can cause vomit when consumed much amount. So we recommend you to use a cat collar when concerned with this kind of situation.
Kindly contact us via [email protected] with further questions. Thanks! see less
By Breezytail Inc SELLER on June 28, 2022 "
Their story is also really great!
Our Story
"HYPONIC begins with Woongja, an abandoned stray turned celebrity dog. As she became known to Korea as their beloved star dog, Woongja developed a malignant tumor that led to the amputation of her ear, eventually succumbing to skin cancer.
It was then, JB Kang began his research into hypoallergenic and non-toxic pet care products. Through years of his dedicated research and study, HYPONIC was established."
RELEVANT: Everything You Need To Know About Calico Cats
Promising Reviews
"My cat whose older and not quite able to reach certain areas on her own, loves this product, it leaves her coat soft and brings out her coat's colors."
2) Burt's Bees Cat Dander Spray With wipes
Burt's Bees is a classic stand by!
Burt's Bees for Pets is America's #1 pet grooming brand, trusted by millions of pet parents. Their gentle cat dander remover spray reduces cat dander and flaking, leaving fur soft, shiny, and moisturized.
Plus, this all natural formula is pH balanced for cats and free of fragrances, sulfates, colorants, and harsh chemicals, making it safe and suitable for all cats.
Aloe Vera and oatmeal are included to reduce redness and/or flakes and deeply condition dry skin, so you'll feel confident that your pet is getting the best care.
4) Earthbath Oatmeal and Aloe Cat Fur Conditioner
Pamper your furry best friend with this pH-balanced conditioner made with natural and organic ingredients! Our cat fur conditioner and detangler is derived from vegetables, blended with organic shea butter, colloidal oatmeal, and organic aloe vera. No parabens, dyes, soap, sulfates, phthalates, or alcohol are included, leaving your pet's coat soft, plush, and naturally lustrous. Soothe and re-moisturize itchy, dry skin and help make brushing out tangles easier.
RELEVANT: Cat Allergies: Can You Live With Cats If You Are Allergic?
5) Best Conditioner For Long Haired Cats: earthbath Shed Control Conditioner for Dogs & Cats, Green Tea & Awapuhi with Organic Fair Trade Shea Butter
Looking for a cat fur conditioner that will not only soften, detangle, and enrich your pet's coat but also reduce excessive shedding and dander? Look no further!
This vegetable-based conditioner is the perfect solution. Enriched with organic fair trade shea butter, your pet's skin will be nourished and moisturized, reducing dryness and scaling.
Not only that, but powerful antioxidants help protect and repair skin damage – a major cause of shedding!
Conditioners for Long-Haired Cats Concluding Purrs
A cat with long hair like a Himalayan, Persian or Maine Coon will require a grooming toolkit. Once you get into the habit of grooming him daily and shampooing as needed you might want to add a conditioner. This is especially applicable to kitty cats in the colder regions. Winter months bring on all kinds of dry skin and dander; a good conditioner can go a long way. This post is all about cat fur conditioner that will leave your long-haired cat's coat silky smooth.
Grooming your cat is a wonderful way to let her know how much she means to you.
Until next time, purrs!
Lisa Illman is the Founder of Kritter Kommunity, LLC. She has a tuxedo adult cat and has had him since he was a baby kitten. Before her cat Finnegan, Lisa had had two FIV-positive cats for over a decade. They inspired Lisa to invent a cat enclosure and a portable catio so they could safely sit outside and enjoy fresh air and sunshine. Lisa had a Poodle and a parakeet growing up. She currently loves to pet-sit for her neighbors' dogs and cats.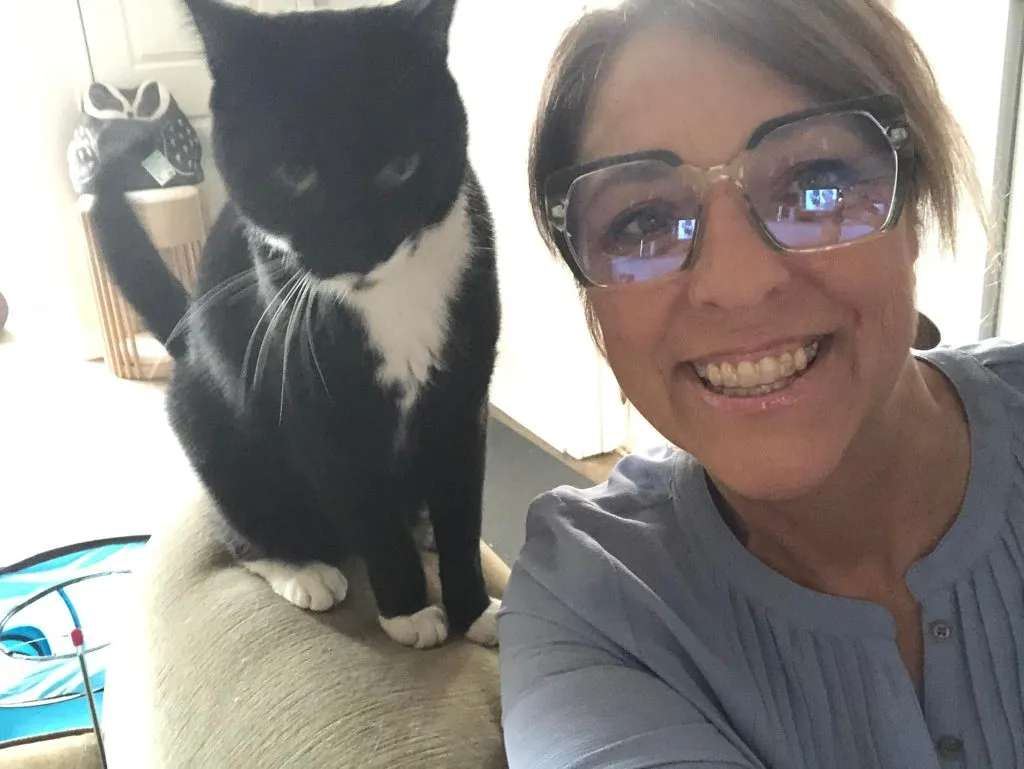 Why is Kritter Kommunity Your Trusted Partner?
Our mission at Kritter Kommunity is to promote happy and healthy lives for pets and their owners. We specialize in Barkitecture and designing tips for pet-friendly homes, utilizing the natural instincts of cats, dogs, and small critters to create a home life that pets and people love. From tips on pet care to reviews on pet toys and furniture, we are a go-to source for all things cats, dogs and small critters. Join us in celebrating the joys of pet ownership and providing the best possible lives for our furry friends.
Long-Haired Cats Additional Information:
Do Himalayan Cats Make Good Pets?
5 Long-Haired Cats That Make Great Pets
Calico Cat vs. Chimera Cat: Are They The Same
Do Maine Coon Cats Have A Favorite Person?
Can Maine Coon Cats Be Left Alone All Day?
Latest from our blog: