If you have a long-haired feline, you know how gorgeous your cat is; and you also know the work that goes into keeping that long fur shiny and smooth! This post is all about best shampoo for long haired cats.
Long-haired cats are super pretty but they do require grooming and so we are exploring top shampoos specifically for long-haired cats.
The best way to stay ahead of a matted mess is not to get one! No, seriously, brushing your long-haired cat often is super important.
How To Get Mats Out Of Long Haired Cats
If your cat ends up getting those nasty mats though, fear not, help is on the way. But BEFORE you jump into shampooing your lovely fur kid, you must get the mats out with scissors. Cutting the mattes out is your best bet, and it will be painless on your cat if you 1) take your time, 2) use a little powder (NO WATER), 3) pull the matting up and away from the skin 4), use sharp scissors 5), cut the mat out, without touching your cat's skin 6), now brush your cat.
Self Cleaning Slicker
Dematting Tool
Now that she is brushed, mat free and ready to get a bath, let's get into the 5 best shampoos for long haired cats.
Best Shampoo For Long Haired Cats
After your feline is feeling good from her de-mat job (if she had one) and brush out, it is time for a bath. Getting a shampoo that smells good to you but is not harmful or annoying to her is really important.
1) HYPONIC Hypoallergenic Premium Shampoo
Our number one shampoo picks for long-haired cats is HYPONIC.
I highly recommend getting the unscented and if you really want to try the scented, see if you can get a much smaller bottle or a trial size to test it first. My rule of thumb with cat supplies (like litter) is unscented. The only scented cat stuff I really use is food and cat urine remover.
This shampoo is hypoallergenic and soothing to a feline's skin. Most cats, and especially thicker coat cats, get dry skin. This shampoo will really help with that and moisturize while cleaning fur.
Their story is also really great!
Hyponic Story
"HYPONIC begins with Woongja, an abandoned stray turned celebrity dog. As she became known to Korea as their beloved star dog, Woongja developed a malignant tumor that led to the amputation of her ear, eventually succumbing to skin cancer.
It was then, JB Kang began his research into hypoallergenic and non-toxic pet care products. Through years of his dedicated research and study, HYPONIC was established."
Promising Review
5.0 out of 5 stars Unscented works very well for senior cats! Reviewed in the United States 🇺🇸 on October 31, 2022
Scent: Unscented (10.14 oz)Verified Purchase
"My senior hospice cat is in need of regular baths – the old girl was found on the streets with terrible stomatitis and seems to have "unlearned" bathing herself because her mouth hurt so badly for so long. Combined with the gut cancer (which results in some fearsome poops on occasion), well, baths are a necessity.

The Hyponic is so gentle, yet so good at making her CLEAN! And it rinses so easily, which is a must for an old cat who can't stay standing for long with the added weight of wet fur. The ability to clean thoroughly, yet rinse easily and quickly makes this one a total winner!

Really, really recommend the unscented, though. Cats' sense of smell is about 14x better than ours, so a scented shampoo is just… wrong. And I know that Hyponic would disagree, but having dealt with a few renal failure cats, I honestly don't feel that any scented products are safe in the long run for feline kidney health."
2) Burt's Bees Cat Shampoo
Burt's Bees is a classic stand by!
Their shampoos always do the trick and can be trusted to hypoallergenic, filled with just the essentials.
I highly recommend the cat shampoo with shea butter. It leaves a cat's coat so very soft and smooth! this shampoo is also great for feline skin.
3) Bobbi Panter Pet Products Shaggy Cat Signature Shampoo & Conditioner, 8-oz Bottle, Multicolor
This cat shampoo is a labor of love, created with the intention of providing the best for your furry friend. Enriched with Vitamin E, Jojoba Oil, Rosemary and Chamomile, this shampoo naturally nourishes and softens your cat's skin, leaving them smelling divine. Experience the difference with this luxurious, high-quality shampoo.
4) Breezytail PetO'Cera Cat Shampoo
Invest in a good cat shampoo.
And this is yet another option for you and your fur family to use.
Especially great because it touts being itch relief so if your cat is suffering with itchy skin, dandruff and flakiness Breezytail will definitely help. This cat shampoo is Veterinary approved!
RELEVANT: Cat Allergies: Can You Live With Cats If You Are Allergic?
5) Best Shampoo For Long Haired Cats: Mooncat Waterless Cat Shampoo
If you have a long-haired cat (or any cat really) it probably isn't a bad idea to keep some waterless cat shampoo handy, just in case!
One time I had planned on giving my female cat Abigail a bath, but the water was being turned off by the city to do some roadwork for a few days. I was not able to give her a bath the following week, so to get us through the next month, I simply used waterless shampoo. Mooncat works great!
It comes out like a a hair mousse. The best part is no more bath water for the poor kitty cats who do not like getting a bath.
This post is all about best shampoo for long haired cats.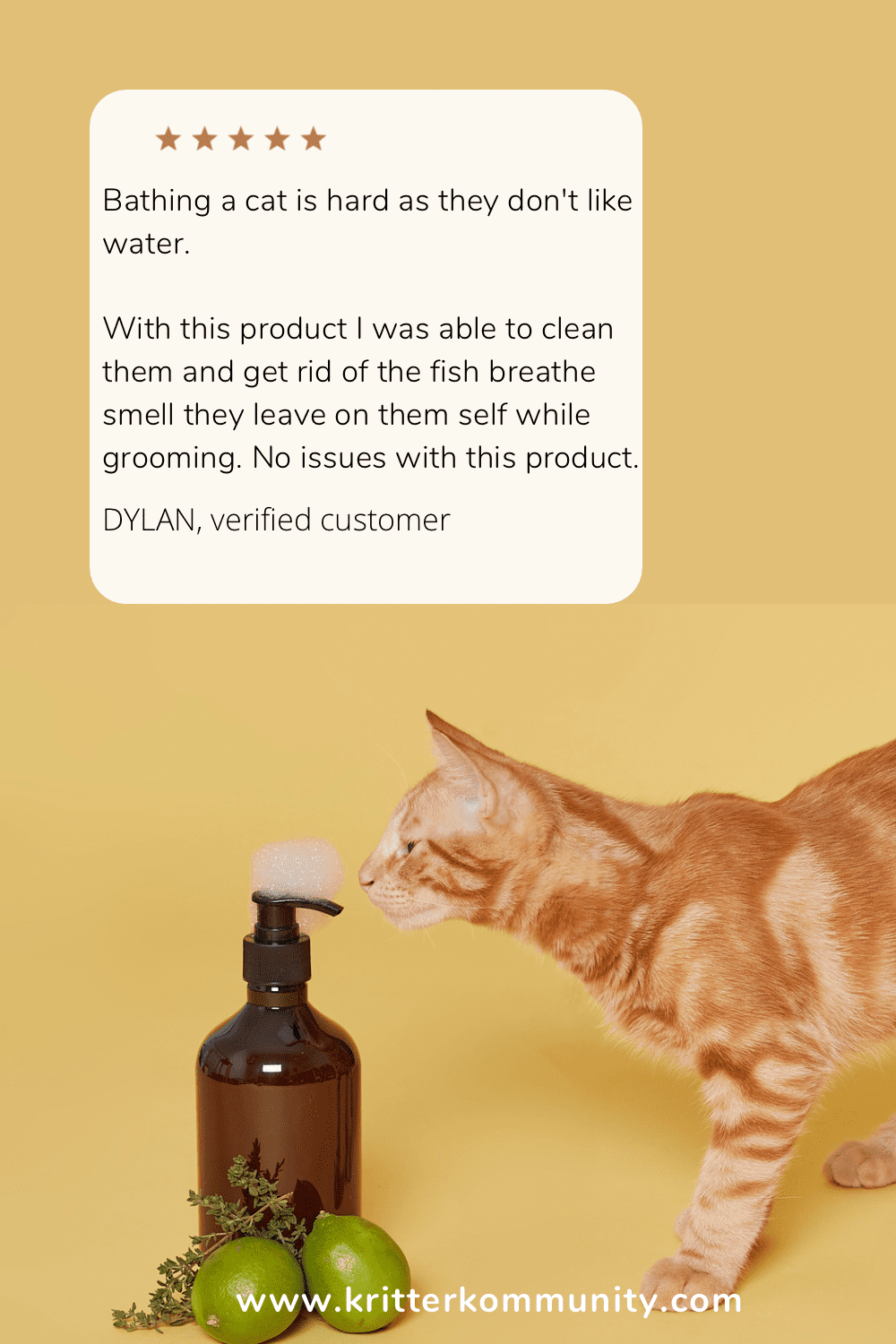 Concluding Purrs
A cat with long hair like a Himalayan, Persian or Maine Coon will require a grooming toolkit. Once you get into the habit of grooming him daily and shampooing as needed, your cat will love you even more. Grooming your cat is a wonderful way to let her know how much she means to you.
And now over to you, what products do you love for your long haired cat?
RELEVANT: Maine Coon Tips For Good Health
Latest from our blog: