Taking the time to buy the right products for your pet and the environment can be time consuming. That is why this post is all about five amazing eco-friendly cat furniture nests; aka cat caves and beds.
I know for me, I always want to get great products my felines will love. But I also want to do my part to be sure Finnegan is minding his carbon foot print; aka paw print.
That's where eco-friendly cat furniture nests come in. These nests, also known as cat beds, cat caves, and cat nests, are not only comfortable for your cat, but also environmentally friendly.
The Benefits of Eco-Friendly Cat Furniture Nests
Comfortable and Cozy
Durable and Long-Lasting
Comfortable and Cozy
Eco-friendly cat furniture nests are designed to provide your cat with the ultimate comfort and coziness. They kind of remind me of a worn shoe that has been molded overtime to perfectly fit my foot. At first the new shoe needs to be stretched and used, but soon enough it has molded to fit my foot perfectly.
Sorry, is that the worst analogy ever?
Eco-friendly cat furniture nests, also known as wool cat caves, are similar to a shoe.
Made from soft and plush materials, these nests provide a warm and inviting place for your cat to rest, nap, and sleep. Your cat (especially kittens) might bounce around in there at first, but rest like a sleep cat in bed.
Some designs even feature a hood or a cave-like structure that allows your cat to feel safe and secure.
RELATED: New Season, New Look: How to Use Spring Colors to Brighten Up Your Cat Room
Sustainable and Environmentally Friendly
One of the biggest benefits of eco-friendly cat furniture nests is that they are made from sustainable and environmentally friendly materials.
Many of these nests are made from natural materials such as wool, cotton, and bamboo. These materials are biodegradable and do not harm the environment when they are disposed of. Additionally, many eco-friendly cat furniture nests are made using sustainable manufacturing processes, reducing the carbon footprint of the product.
Durable and Long-Lasting
Eco-friendly cat furniture nests are also designed to be durable and long-lasting. Unlike traditional cat beds that can easily wear out and need to be replaced, eco-friendly cat furniture nests are made from high-quality materials that can withstand the wear and tear of daily use. This means you can invest in a nest that will last for years, reducing the need to constantly replace your cat's bed.
RELATED: Cool Cat Home Ideas For Indoors: The Stylish Cat Lover Home
Investing in eco-friendly cat furniture nests is not only a way to spoil your cat, but also a way to protect the environment. These nests are designed to be comfortable, sustainable, and long-lasting, providing your cat with a safe and inviting place to rest while also reducing your carbon footprint. So, go ahead and spoil your cat with an eco-friendly cat furniture nest – both your pet and the planet will thank you.
Are you looking for an eco-friendly cat bed for your feline friend that is both comfortable and sustainable?
Organic cotton and natural fibers are two materials that can make a perfect cat bed.
Organic cotton is a much better choice than traditional cotton, as it is grown without the use of synthetic pesticides or herbicides, making it healthier for both you and your cat.
Natural fibers, such as jute, hemp, and wool, are also great for creating a comfortable and durable cat bed. These fibers are more breathable than synthetic fabrics, which can help keep your cat cool and comfortable.
In addition to the fabric, you'll want to consider the stuffing for your cat bed. Organic cotton batting and wool stuffing are two great options for creating a cozy and durable cat bed. Organic cotton batting is made from organic cotton fiber, meaning it is much better for the environment than traditional cotton. Wool stuffing is a great choice because it is naturally flame-resistant, hypoallergenic, and antimicrobial.
When it comes to design, you have plenty of options! You can make a custom cat bed with organic cotton and natural fibers, or you can purchase an eco-friendly cat bed online. Many online stores now offer a wide range of cat beds made with organic cotton and natural fibers. So, you can easily find a cat bed that looks great and is sustainable.
Investing in an eco-friendly cat bed made from organic cotton and natural fibers is a great way to ensure that your cat is comfortable and your home is environmentally friendly.
Why not give your kitty an eco friendly cat bed where they can get comfy and cozy and enjoy and afternoon nap?
What Is Eco-Friendly Cat Furniture?
Eco-friendly cat furniture is furniture designed for cats that is environmentally responsible and sustainable. It is made using materials that are non-toxic, biodegradable, and renewable, such as bamboo, recycled cardboard, and natural fibers. Eco-friendly cat furniture is also produced using processes that minimize waste and energy consumption.
This type of furniture not only benefits the environment but also promotes the health and well-being of cats by providing them with safe and non-toxic spaces to play, rest, and scratch. In summary, eco-friendly cat furniture is a sustainable and responsible option for cat owners who want to provide their pets with safe and environmentally conscious furniture.
Eco-friendly is considered anything that does not harm the environment.
What Are Eco-Friendly Cat Beds?
An eco-friendly pet bed is a better option than standard pet beds. Products found in cat beds that are considered environmentally friendly are made from recycled or natural materials In many cases, producing them helps the environment, rather than harming it.
What is a non-toxic cat bed and what are the benefits?
A non-toxic cat bed is a bed specifically designed for cats that is free from any harsh or hazardous chemicals. The benefits of a non-toxic cat bed are numerous.
Firstly, it is much safer for your cat as they are not exposed to any potentially hazardous chemicals or materials.
Secondly, it can help promote better overall health for your cat as non-toxic materials are typically more breathable and provide better air circulation.
Lastly, a non-toxic cat bed can be more comfortable and supportive for your cat, allowing them to sleep soundly and peacefully.
Environmentally Friendly Materials
Products that are all natural, meaning made literally from mother nature herself, are considered eco friendly and many times can be healthier and safer for your cat than man made artifax.
Common material used in cat and dog products that are eco-friendly include wool, felts, bamboo and cardboard.
Eco-Friendly Cat Furniture Nests
Cat Cave
Our favorite eco-friendly cat bed is The Cat Cave. These snuggly beds are all over the internet now. They are quite popular with kitty cats!
Cat caves come in all shapes, sizes, colors and designs. Amazon has a massive variety for you to choose from, which is why I updated this blog post this year. Instead of going on Amazon and digging through pages of feline felt, here are my favorites you and your cat my love too!
Most cat caves are made of wool or felt, materials considered eco-friendly and are cat magnets!
They can seriously bring about a cat purr!
Right up above is a nest that I really like because it not only has great reviews, it is available on Prime, and it is also the purrrrfect color for matching ANYTHING.
Eco-friendly cat furniture can be a great choice for design-focused cat lovers because it offers both functionality and style. With options available in sisal, wool, and cardboard, eco-friendly cat furniture can match a variety of aesthetics, including bohemian, modern, and minimalist.
As a cat lover and design enthusiast, it's exciting to see eco-friendly cat furniture becoming more widely available.
Beige is a shade that goes perfectly with both BOHO and Modern decor, two of my absolute favorites. (I love this nest even more now that it is on sale).
If your ears just perked up when you read BOHO or Modern, you might also like to check out these articles on our Blog.
8 Modern Cat Trees That Make A Major Statement
How To Beautify Your Home With Modern Cat Furniture
10 Modern Cat Toys You Have Got To See
BOHO Cat Furniture On Amazon You Will Love
The Twin Critters nest, also made of felted wool is so fun! I picked this one because it is available on Prime, highly rated and it adds a pop of color to any room. I would definitely think this is a great cat lover gift, especially for a child's bedroom or playroom.
Above is the MEOWFIA cat nest that any kitten will be smitten for! OMG and the adorable cat toy balls to match. This teal color is striking and definitely makes a statement.
You'll also love that non-toxic dye is used for these. The MEOWFIA is a top pick.
Wool Owl Cat Bed
Next on the favorite list the owl bed that we have (only a few left) in stock at Kritter Kommunity. We loved these so much we offer them direct in our online store.
The bed is made from 100% merino wool.
Why wool?
Wool gives the nest a super-soft feel which your cats will love to cuddle up against.
Plus, since merino wool naturally repels odors, stains, and dirt, the bed stays cleaner than many other beds on the market.
The bed is also non-toxic, so you don't need to worry about it causing any harm to your cat.
It is a cozy bed your cat will love to curl up in for a nice, long nap! As its name suggests, this pet bed has a cave-like shape, where your furry friend will feel snug and secure.
This product line comes in a variety of sizes and colors, so you can find the perfect napping spot for your kitty.
The medium-sized bed is perfect for cats who weigh up to 12 pounds. The large-sized bed is great for cats weighing over 12 pounds.
There are two color options of the owl for you to choose from, grey or white.
Fhasso Luxury Bamboo Cat Beds
I LOVE THIS BED!
The Fhasso Luxury Bamboo Cat Bed is an oval bed with high bamboo walls.
The interior of the bed is a soft velvet cushion to keep your cat comfy while they catch some z's. This cat bed is meant to give cats the comforting and secure feeling of being in the womb.
If you are looking for a cat bed that will add appeal to your home, then the Fhasso Luxury Bamboo Cat Bed is a great choice. This bed is visually appealing and can serve as a conversation starter when you have guests over.
If you love this look, you might also be interested in reading our blog post on biophelia design for pets.
This cat bed is designed to provide years of comfort to your precious kitty. It is constructed using high-quality materials and will hold up well to a mischievous kitty.
You can feel good about your decision to purchase this bed since it is made from eco-friendly materials. The outer shell of the bed is made from bamboo, which is a self-sustaining plant.
If you are not satisfied with your purchase of this cat bed, the manufacturer will give you a full refund.
Pet Fusion Kitty Cat Lounge
The Pet Fusion is a cat scratcher that doubles as a bed for your kitties.
(FINNEGAN LOVES IT!)
It is shaped as a little couch for your kitties to lounge in and scratch. The surface of the bed is made from corrugated cardboard featuring a double side design. The cardboard used to create this bed/scratcher is made using recycled cardboard. The scratcher is also non-toxic, so you can feel comfortable with your cat using this item.
Pet Fusion's cat scratcher is not only eco-friendly but also a favorite among felines. Its reversible design provides two sides for scratching and includes organic catnip.
Made of recycled corrugated cardboard and non-toxic glue, it is a durable and long-lasting cat scratcher that helps protect furniture as a cat scratch deterrent. Measuring 34″ x 10.5″ x 10.5″, it is large enough for multiple cats and a great addition to cat accessories and supplies. The modern design in gray, brown, or white will complement any home.
ALL FOR PAWS
The ALL FOR PAWS is a cozy hideaway for your kitty to dream her day away. This is a favorite since it is available on Amazon Prime and priced right!
The manufacture boasts: "HIGH QUALITY MATERIAL OF PET BED: Cozy small cat bed is made of soft fabric, non-toxic and environmental friendly."
The super-soft filling is meant to add a buffer for older kitties who might have joint pain or achy muscles.
Arthritis is a common ailment among older cats. For more on this topic check out our blog post on arthritis in cats.
Concluding Thoughts
Eco-friendly beds and cat products are becoming more and more common. Felted wool is the most popular and there are many varieties you can choose from. Using cardboard, sisal, wool, felt and bamboo are great cat magnets! They seem to know these are all natural and have a instinctive desire to curl up in them.
Materials like cardboard, felt and wool tend to fill the drawers of many DIY enthusiasts and crafters. A homemade eco-friendly, budget friendly cat bed can be the absolute best gift you give.
Treat Your Cat
Lisa Illman is the Founder of Kritter Kommunity, LLC. She has a tuxedo adult cat and has had him since he was a baby kitten. Before her cat Finnegan, Lisa had had two FIV-positive cats for over a decade. They inspired Lisa to invent a cat enclosure and a portable catio so they could safely sit outside and enjoy fresh air and sunshine. Lisa had a Poodle and a parakeet growing up. She currently loves to pet-sit for her neighbors' dogs and cats.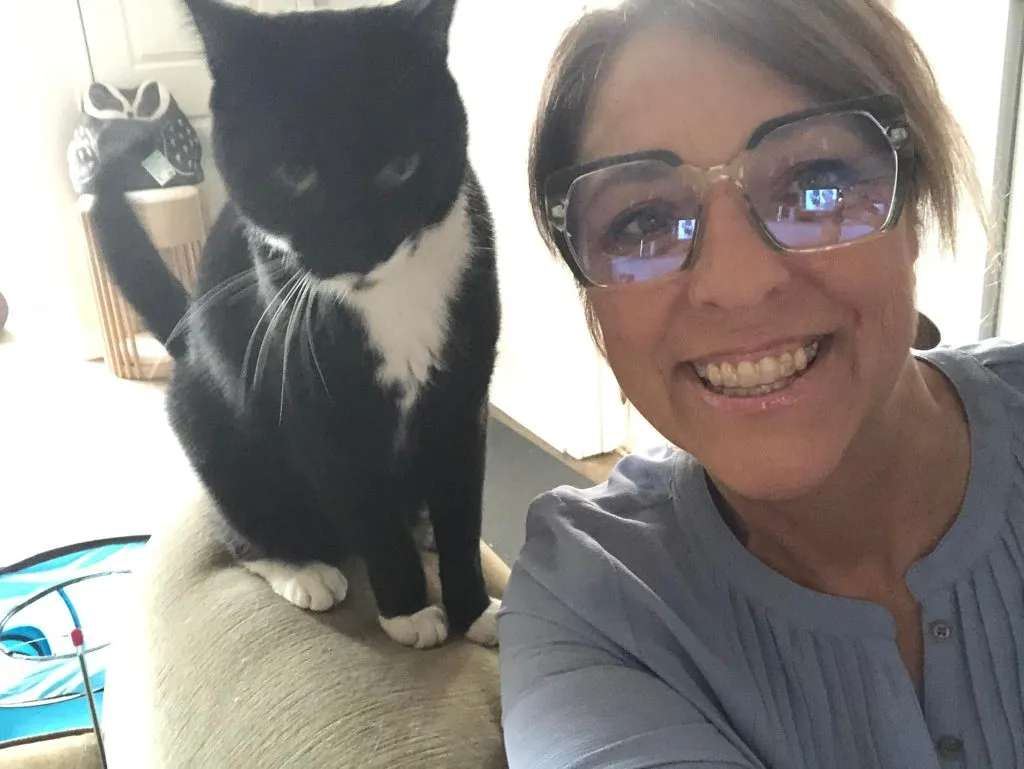 Why is Kritter Kommunity Your Trusted Partner?
Our mission at Kritter Kommunity is to promote happy and healthy lives for pets and their owners. We specialize in Barkitecture and designing tips for pet-friendly homes, utilizing the natural instincts of cats, dogs, and small critters to create a home life that pets and people love. From tips on pet care to reviews on pet toys and furniture, we are a go-to source for all things cats, dogs and small critters. Join us in celebrating the joys of pet ownership and providing the best possible lives for our furry friends.
Latest Blog Posts
<